Emsculpt Neo Bodysculpting Pocatello, ID
The EMSCULPT NEO BODYSCULPTING is a revolutionary non-invasive body contouring treatment performed in a series of 30-minute sessions. With the EMSCULPT NEO BODYSCULPTING, you can also reduce fat and tighten your skin, whereas the original EMSCULPT just stimulates the muscles. EMSCULPT NEO BODYSCULPTING takes the popular EMSCULPT to the next level for better results and patient satisfaction.
HIFEM (High-Intensity Focused Electro-Magnetic) is used to stimulate your muscles with the EMSCULPT NEO BODYSCULPTING. Therefore, it is possible to achieve greater contractions using this treatment than even the best gym equipment can provide on its own. Radiofrequency technology of EMSCULPT NEO BODYSCULPTING also helps reduce fat and tighten the skin simultaneously.
BENEFITS OF EMSCULPT NEO BODYSCULPTING INCLUDE:
● Treatments are painless
● No downtime
● Quick 30-minute treatments
● Helps to sculpt, slim, & strengthen your physique
● Long-term fat reduction
● FDA cleared
● Scientifically proven to work
● Tones, builds, & firms muscles
Contact Skintuition today to see if EMSCULPT NEO BODYSCULPTING treatments are right for you.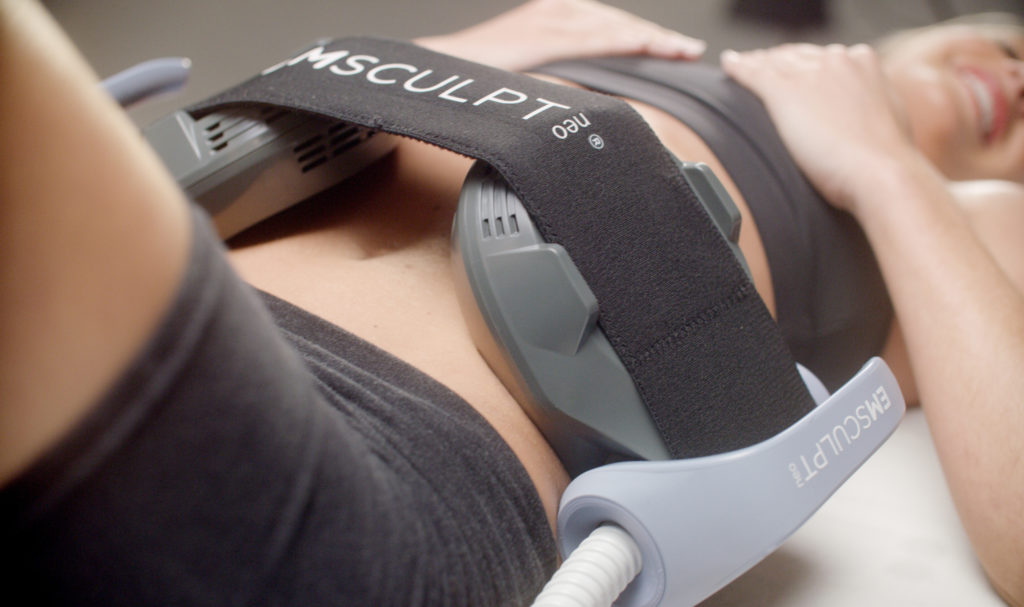 Emsculpt Neo Bodysculpting F.A.Q.s
The EMSCULPT NEO BODYSCULPTING is a revolutionary technology that stimulates muscle growth while reducing fat. Body contouring can be accomplished without surgery or downtime through muscle contractions.
There are visible results after the treatment, similar to an intense workout of the muscles in the target area. Usually, muscle toning results are visible two to four weeks after the last treatment. Fat loss results usually appear eight to twelve weeks after the last treatment. After the treatment series, improvements can continue for several months.
For most people, EMSCULPT NEO BODYSCULPTING is a good choice, with the exception of those with a high body mass index (BMI). EMSCULPT NEO BODYSCULPTING should not be used by patients with metal in close proximity to the treatment area, since magnetic muscle stimulation is used.
EMSCULPT NEO BODYSCULPTING treatments do not require any downtime. Some patients may have swelling, soreness, or redness, but these symptoms disappear quickly.